The third-party logistics firms place significant importance on managing labor expenses and enhancing workforce efficiency. With a large number of employees working on different sites, the workforce management becomes a tedious task. Attendance tracking is an important aspect of workforce management which can now be automated using the cutting-edge technology based modern real-time attendance tracking softwares like KYTE.
Why KYTE for 3PLs?


KYTE has emerged as the first choice when it comes to the workforce management solutions for logistics providers. KYTE is specifically designed to cater to the requirements of a diverse workforce by offering adaptable employee self-service and mobile clocking alternatives, making it the best fit for the third-party logistics industry. KYTE empowers its logistics clients to precisely monitor employee attendance, decrease labor expenses, and mitigate compliance risks, leading to streamlining of the whole business process and increased productivity.
Attendance Optimization in third-party logistics firms with Automated Attendance Tracking:


One key factor that can significantly impact productivity of a 3PL firm is ensuring that employees perform their tasks promptly. The employees reaching the sites on time is crucial to complete the tasks within the timeframe promised to the clients. Therefore, keeping track of their work hours and attendance is paramount. This task can be burdensome if done manually, with employees working from different locations and can involve having a lot of registers, phone calls to get updates and what not.
The online attendance solution can alleviate such challenges by reducing paperwork and saving time, while also ensuring accurate results through individual user logins in their mobile apps. Adopting the modern technology for employee attendance offers an efficient solution to centralise attendance management within your organization. Therefore, investing in a modern online attendance software has become more crucial than ever. The key common benefits of online attendance tracking system for all the industries are:
1. Paperless environment
2. Time and cost saving
3. Real-time updates
4. Cloud storage of attendance records
5. Reports and Analytics
6. In-app leave management
7. Better employee satisfaction
Along with these common benefits, online attendance tracking also has other benefits specifically for the logistics industry. Let's explore the additional benefits provided by Automated time tracking for 3PL companies: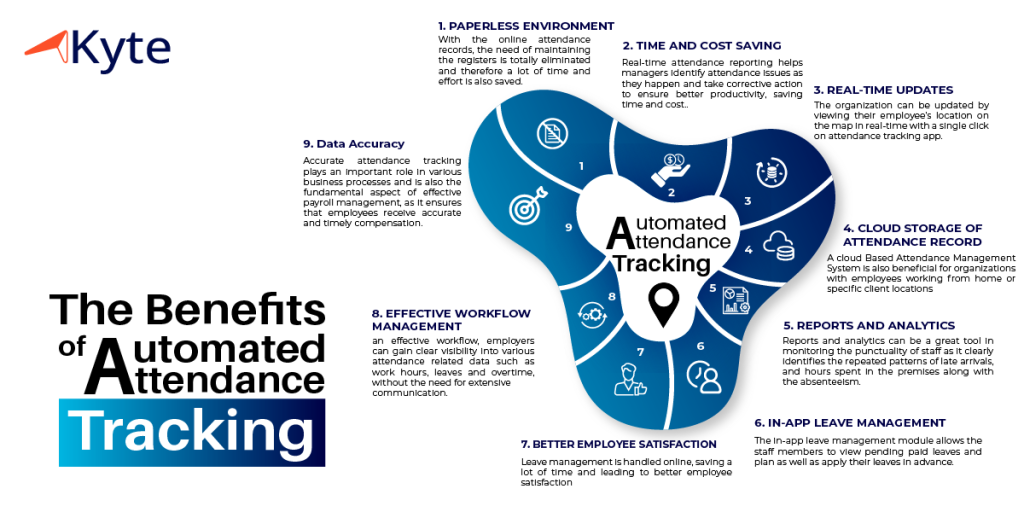 Effective Workflow Management:


An automated attendance solution offers a notable benefit in terms of streamlined workflow management. By establishing an effective workflow, employers can gain clear visibility into various attendance related data such as work hours, leaves and overtime, without the need for extensive communication. Modern day online attendance tracking softwares like KYTE come with the in-app leave management module allowing the employees to apply for leaves with a few clicks and view the status of approval online as well. It makes the coordination between management and employees effective. The cumbersome tasks like manual shift scheduling can be efficiently tracked and managed with just a few clicks. Real-time attendance tracking in supply chain is crucial to cover different types of attendance required like: attendance of on-site employees, attendance of employees travelling from one site to other and more. Driver attendance tracking in logistics is also an important factor for completing the task in time and is easily manageable through the use of an effective online attendance tracking software.
The biggest challenge faced during employee attendance tracking in the 3PL industry is the frequently changing staff. New hiring and staff shuffling at different sites or projects is a common process and thus need a versatile approach. With an online attendance tracking software, you can effortlessly onboard and instantly add new staff members using the mobile app. This allows the newly hired workforce to begin working immediately without any delays caused by administrative personnel to complete the onboarding process. Moreover, the shift assignment is also done easily with a few clicks. The online attendance tracking provides access to real-time attendance status for all your sites, allowing you to monitor and track attendance promptly.
The centralised dashboard offers detailed reports and analytics with comprehensive views categorised by site, shift and staff, enabling you to obtain valuable insights for effective workforce management. This real-time data update provides transparency and helps the management to make well-informed business decisions. The real-time attendance data also helps in scenarios where billing is based on hourly basis. The data can be simply shared with clients with a few clicks to get the billing cleared in time, making the process hassle free.
The modern-day top-rated online attendance tracking solutions like KYTE itself, are built using the cutting-edge technology and can be easily integrated to your existing payroll, HR management and other existing solutions, making the data transfer easy.
Data Accuracy


With the level of resource movement involved, accurate attendance tracking is only possible through the use of a real-time attendance tracking software. The accurate attendance tracking plays an important role in various business processes and is also the fundamental aspect of effective payroll management, as it ensures that employees receive accurate and timely compensation. When attendance records are inaccurate, it can result in payroll errors that negatively impact employee morale, productivity, company's reputation and can lead to clashes with client during billing claims. Accurate attendance tracking is also important to mitigate the risks of time-thefts, proxies and other delays caused at employee's end.
To improve data accuracy, online attendance tracking softwares provide various different methods. KYTE provides you with the option to record the location of employee with their check-in and check-out and can also store the history trail of locations visited by your employee during the day. KYTE also provides the geo-fence feature allowing you to identify when the employee entered or exited the work site. This can help you get the exact information you need to monitor your employees and take task related decisions by viewing the employee's real-time location at any instant during the work hours. The app also allows the functionality to allow the employees to post a selfie with attendance to enhance the data accuracy metrics.

Streamlining attendance in logistics operations is therefore now possible with KYTE. We also provide various customisations as per the business requirement and will like to invite you for a demo so that we can share more insights. Book a free demo today! 8003620388