Managing the work hours and tasks of employees can pose a challenge for business owners. However, there is a solution – employee tracking apps. These apps allow employees to record their work hours accurately, specify the projects they are working on, and even categorize their hours based on clients.
Some advanced options even offer location-based tracking. With the best attendance tracking app in the market, it is important to have a clear understanding of what you want to monitor and why you have chosen a specific solution for your business.
How to Select the Right Employee Time Tracking App
You may doubt that all employee time attendance app are the same, but that is wrong to assume. Different employee track comes with different sets of features catering to different industries. When you're in the process of choosing a time-tracking app for your business, your first consideration should be which features are essential and practical and which ones are just nice "toppings" to attract you.
When considering an app to track your employees' working hours, it's important to focus on the features that are personally valuable to you. The best app to track employee location usually includes clock-in and clock-out functionality, real-time tracking reminders for time management, payment integration, salary calculations, and the ability to detect time.
If you're responsible for managing a team, it's also important to have an understanding of your staff and their workflow. A GPS based attendance system app often provides features such as scheduling leave management, approval of timesheets, real-time insights into staff activities, tools for teams, seamless integration with payroll systems and robust reporting capabilities.
For organizations that need to keep track of client-related work, having client management tools can be highly advantageous. Many GPS based attendance tracking apps offer the ability to track hours, set billing rates accurately and even send invoices directly through the platform.
Make sure the software you choose aligns with your budget, and be diligent in understanding the complete cost of your purchase. Some providers charge a base fee in addition to a per-user fee. Others might offer a significant initial discount for a limited introductory period, only for costs to soar once that initial timeframe expires.
Top Time Tracking Apps in 2023
There are many "best" time tracking apps, but while creating this list, we have considered each aspect and feature of some of the top Time Tracking Apps currently. So, here are our top picks:
1. KyteHR
Kyte is one of the best attendance tracking app. It provides a strong and easy-to-use solution for efficiently monitoring and handling employee attendance, leave, and overtime. With advanced functions like a mobile app for attendance, geofencing, automated notifications, shift management, and thorough reporting, Kytehr guarantees precise and trustworthy attendance records. Their cloud-based system ensures data security, scalability, and convenient access from any location at any time. One of the best features of this system is the Time Clock Kiosk; it allows you to transform any internet-connected device into a convenient employee punch clock.

And that's not it, Kyte offers real-time attendance tracking, customizable clock-in/clock-out sheets with flexible attendance policies, a field employee tracking app, geo-tagged attendance, and geo-fencing attendance tracking, to name a few.
This system serves as an efficient solution for organizations, automating the attendance process and providing real-time employee location tracking. By using the mobile attendance app, companies can save time, reduce errors, and minimize discrepancies. These improvements lead to increased productivity and better decision-making.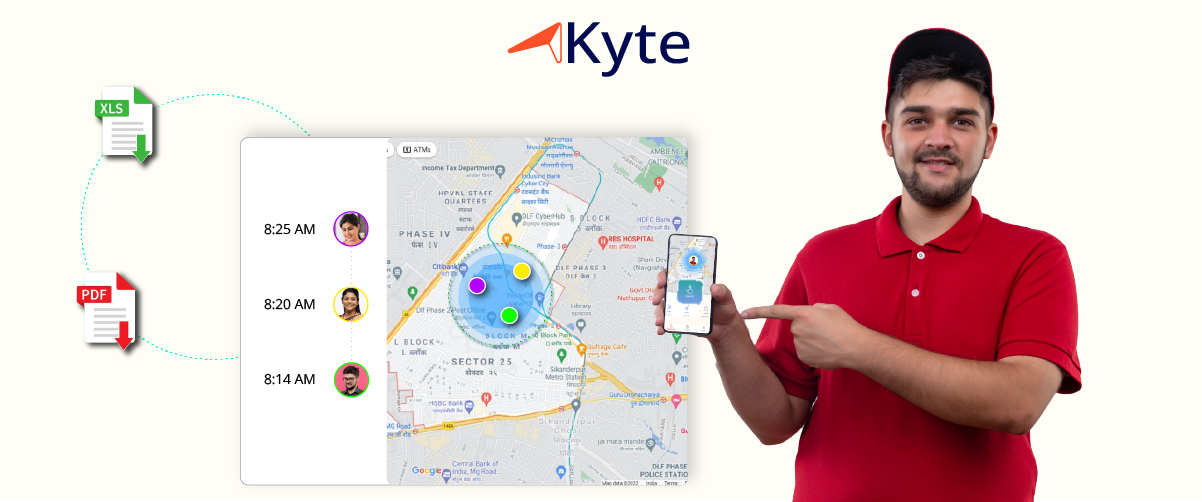 Pros

●  Real-time GPS tracking.

●  Customizable sheets for different schedules and work location needs.

●  Geo-tagged attendance for accurate tracking of field employees.

●  Easy employee salary integration.

Cons

● Employees might have concerns about privacy due to constant location tracking.
2. Clockify
Clockify is a cloud-based employee attendance tracking app known for its excellent reputation for affordability and user-friendliness. With Clockify, you can easily monitor employee time, attendance, and billable hours while obtaining real-time insights into project status.
The free Clockify app offers fundamental timekeeping capabilities, reporting options, and tools for project and team management. , GPS tracking, expense tracking, and team scheduling.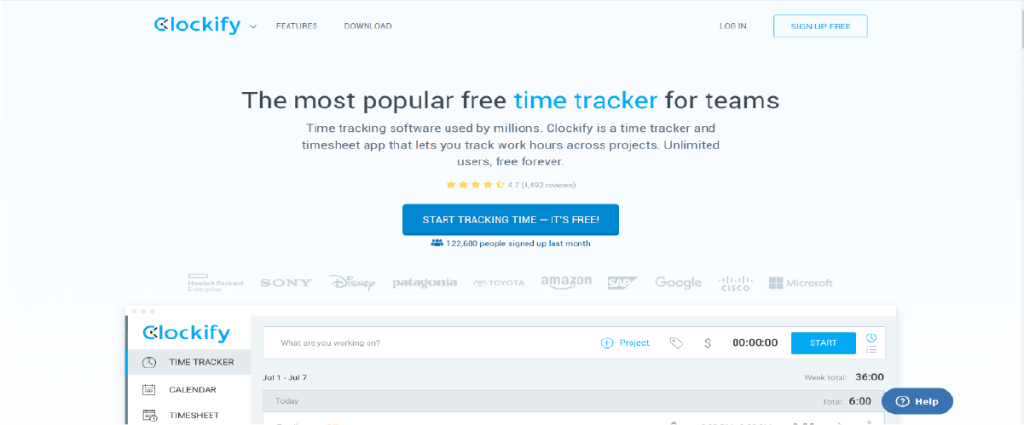 Pros

● User-friendly.

● Easy paid time off (PTO) request management.

● Invoicing capabilities.

● Suitable for project management.

Cons

● Glitches in the app.

● Expensive plans.
3. Connecteam
Connecteam is one of the best apps to monitor your employees' work hours and manage timesheets from any location with exceptional ease and efficiency. It boasts a one-touch time clock, location-based attendance system, job-specific time tracking capabilities, automated timesheet generation, absence, and time-off management, as well as seamless payroll processing etc.
Moreover, Connecteam sets itself apart with its exceptional customer service, user-friendly interface, additional employee management tools, and a highly adaptable platform that can be customized to align with your specific business requirements perfectly.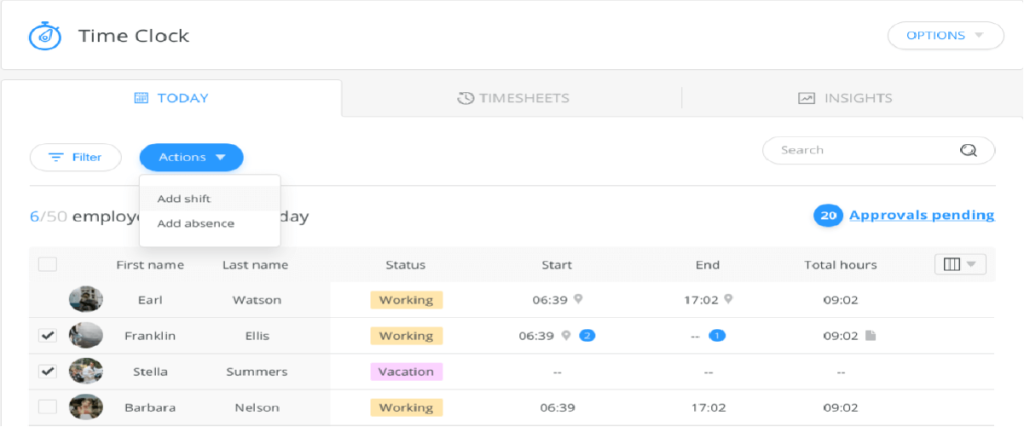 Pros

 ● All-rounder employee management app.

● Budget-friendly.

● Suitable for project management.

Cons

● The free plan has only basic features.
4. Paymo
Paymo offers various plans tailored to individual users, but it's Business plan could be considered as one of the best employee time-tracking tools on the market.
What sets Paymo apart from other employee time tracking apps are its advanced features, which include essential project management tools like financial health indicators, collaborative functionalities for clients and teams, Gantt charts for project timelines, efficient Kanban boards for task organization, resource capacity tracking, a customizable dashboard, and a multilingual interface supporting 23 different languages.
Pros

 ● Best for freelancers.

● Infinite time estimates.

● Both monthly and yearly plans are available.

Cons

 ● Limit storage in all its plans.

● Access to third-party integrations is also limited.
5. Deputy
Deputy stands out as the top choice for scheduling employees thanks to its feature of allowing unlimited shifts per month.
With the Free plan, you get access to auto-scheduling, a valuable tool that can save your managers precious hours. This automated scheduling feature also ensures compliance with labor laws by seamlessly incorporating meal times, breaks, and more into your employees' schedules.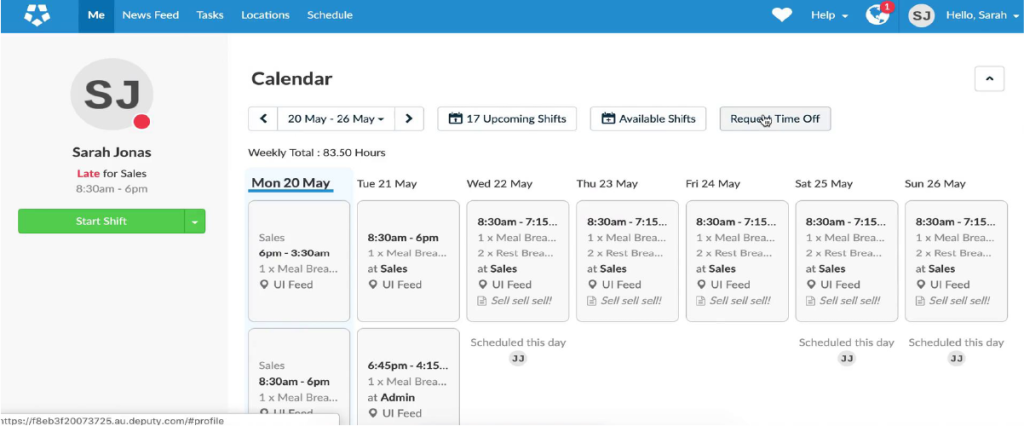 Pros

 ● Separate attendance and scheduling with unlimited shifts

● Attendance with voice and facial recognition

● Easy integration of payroll

Cons

 ● The free plan is only available in the USA

● No option for invoicing
Frequently Asked Questions
Q: What is the best employee time-tracking app?
Considering all the amazing features with standout pricing, KyteHR's employee time-tracking app is one of the best ones out there. It gives you access to some amazing features like Geo-Fencing, Live GPS tracking, and Multi-Branch Control.
Q: Is there an app to track field employee work hours?
Yes, there are plenty of apps that extend services for track field employees with advanced features. For Instance, KyteHR's GPS based attendance tracking comes with features like selfie-based attendance and Geo-fencing, which ensures productivity even for the employees on the move.
Q: How To Choose an Employee Time Tracking App?
To list out the best employee attendance tracking app, here are some things you should consider:
Know your requirements – Whether you require a multi-purpose attendance system to streamline your process or just a basic attendance machine
Consider your budget – There are many attendance tracking apps with different prices. Compare the prices and the features to single out the best match.
Value Security – Before going with any attendance tracking app, it is crucial to understand its data security points. Make sure the app is reputed and does not have any complaints regarding overlap or tampering in attendance.