Ensuring the attendance, timely check in and working hours of employees are properly tracked is crucial for the smooth functioning of any organisation including the pharma companies. Pharma companies are usually large and have a large number of employees, making the staff monitoring and management a tedious task. Pharma industries have a wide range of departments with key core departments being:
1. Microbiology (Micro)
2. Quality Assurance (QA)
3. Quality Control (QC)
4. Research / Formulation and Development (R&D or F&D)
5. Analytical Method Development Laboratory (ADL)
6. Warehouse (Stores)
7. Human Resource and Admin
8. Information Technology (IT)
9. Environmental Health & Safety
10. Production and Packing
11. Engineering (Utility)
12. Supply chain management
13. Accounting
14. Marketing & Business Development
15. Security and office help
16. Purchase
17. Transportation
Tracking employees relating to such wide range of departments requires an effective practice and is possible through the use of latest digital solutions. Pharmaceutical attendance tracking is important to avoid any delays of planned medicine batch releases, sales related tasks, resource planning, and achieve the pharmaceutical workforce optimization.
With the traditional manual attendance tracking system, the wrong checkins and proxies are a big issue which can lead to indiscipline and low overall productivity. Manual management methods indeed contribute to increased inaccuracies, instances of buddy punching, attendance theft and various other management challenges. Thus, to keep employees motivated to be disciplined and mitigate common issues, more and more pharma companies are opting for the automated digital solutions. KYTE is the most popular attendance tracking software for pharmaceutical companies which helps the companies with in-campus as well as field force attendance management.
How can real time attendance software support pharma industry?


With a large number of employees, it is essential for the pharma companies to monitor the employees dedicated to specific tasks and shifts to ensure timely service delivery. KYTE is an effective attendance management system with all the features required for streamlining attendance management in pharmaceutical industry. There are numerous advantages to implementing online attendance system with the key benefits being:
i. Achieve 100% accuracy and transparency which is not possible with the manual attendance management.
ii. The data is centralised, secure and it is easy to implement the digital approvals.
iii. Workforce management for pharmaceutical sales teams.
iv. Attendance monitoring for pharmaceutical field staff.
v. Real-time attendance tracking for medical reps.
vi. Keeping up with the employment-related laws is easier.
vii. Availability of data analytics of different time periods for aiding the business related decision making.
viii. Effective online shift scheduling and resource management.
ix. Avoiding employee burnout with proper analytics of work hours available.
x. Leave management is handled online, saving a lot of time and leading to better employee satisfaction.
xi. Improved sales team monitoring and effective resource planning support.
What has KYTE to offer?


KYTE is a real-time attendance software which allows the employees to mark their attendance right from their mobile apps and all the data is stored at cloud in real-time. The employees can check their own records from the phone app and can plan as well as apply for any leaves required, directly from the application. KYTE has a wide range of features to offer for the pharma industries with the key functionalities being:
1. Automated Check-in and Check-out

With KYTE, the employee don't need to do any manual actions in the office and can mark his attendance directly from the app. It couldn't be simpler. The automated attendance system is helpful in addressing the issues like proxy attendance and buddy-punching. The attendance from app feature is especially helpful in tracking and monitoring the on-site medical representatives.
2. Location-based attendance monitoring and geo-fence

KYTE has advanced features for collecting the accurate attendance records and location based attendance is one of them. Anytime an employee checks in or checks out his/her location is automatically tracked and recorded with attendance to avoid any wrong entries. The app also provides the geo-fence feature, allowing the managers to monitor any entry or exit of the employee from the marked area during the work hours. Therefore, tracking the breaks is now more effective. For the on-site team members, KYTE provides the feature of history trail where all the locations visited by them at respective hours can be accurately tracked and reviewed by the managers.
3. Effective Shift Scheduling

KYTE provides the most versatile and easy to use shift scheduling module which allows the managers to schedule the shifts and allocate respective resources with ease, saving a lot of time and efforts. The employees get notified about any allocation or shift changes in form of in-app notifications, leading to effective team coordination.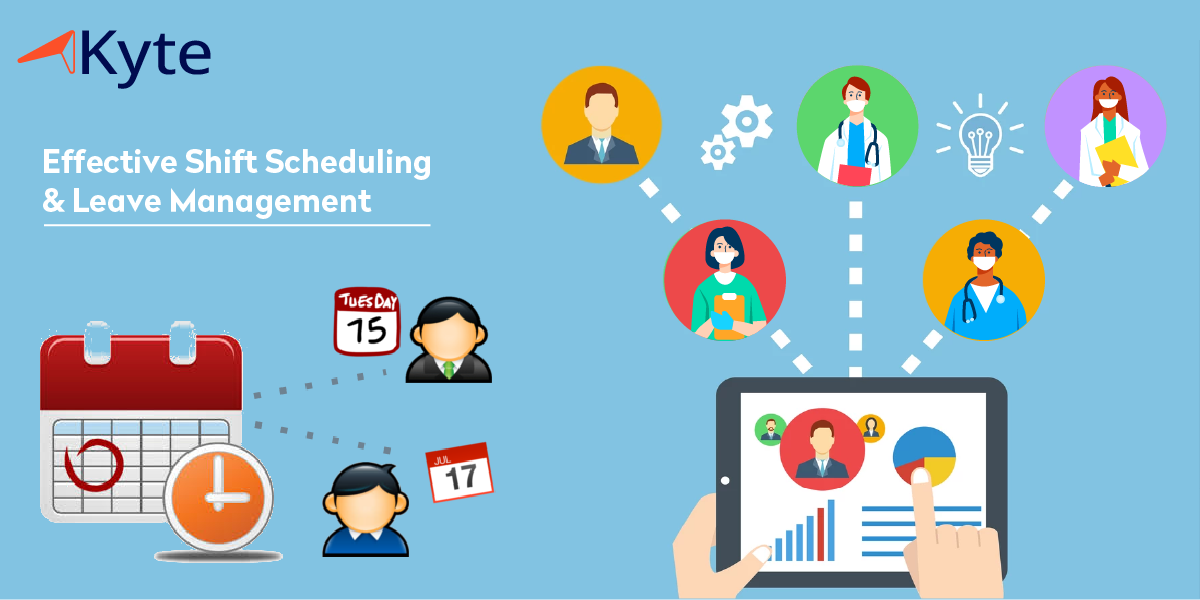 4. Leave Management

Effectively managing employee attendance and absences is crucial for my business. Relying on Excel sheets for leave management is not efficient and outdated. KYTE provides the in-app leave management module for better management of leave approval process and saving the data in an organised manner.
5. Attendance Reports and Data Analysis

Generating reports can be a tedious and time-consuming task. However, with KYTE, attendance reports are generated almost instantly and can be accessed with a simple click. These reports are also updated in real-time as KYTE is cloud based. The automated reports can be filtered according to specific needs, such as on a weekly, monthly or daily basis, along with work duration. Additional information, such as late check-ins or check-outs beyond the allocated time can also be easily viewed.
If you are looking for an effective real-time attendance software for your pharma company, KYTE is what you need. Book a demo today!