Attendance tracking is an important process in every organisation and a number of quality attendance tracking solution software are available in the market to make this task effective. These software solutions enable accurate calculation of employee's work hours which is particularly beneficial for those working on an hourly basis. For the salaried employees, an online attendance software provides visibility regarding their work patterns. Employees can record and document their time spent both within and outside the business premises, allowing you to monitor their working hours, even when they are working on-site. Tracking employee time also helps assess their promptness and punctuality. This is specifically applicable when employees are expected to document their exact entry and exit times, enabling you to identify any instances of tardiness or early departure.
Retail Attendance Tracking

The attendance management process at retail stores present its own unique challenges, considering factors such as a large number of employees, diverse store locations, inventory management, a sizeable customer base, and other variables. To mitigate the chances of negligence on behalf of employees while interacting with customers and enhance overall efficiency within the retail chain, visibility is of utmost importance. Implementing an efficient retail store attendance system like KYTE, enables efficient management and provides better visibility into employee's working hours. It streamlines the tracking and monitoring of employee attendance, allowing businesses to effectively manage workflow schedules, minimize errors, and optimise operational efficiency. With a clear view of employee attendance and related analytics, businesses can make informed decisions and take proactive measures to enhance productivity an reduce potential losses.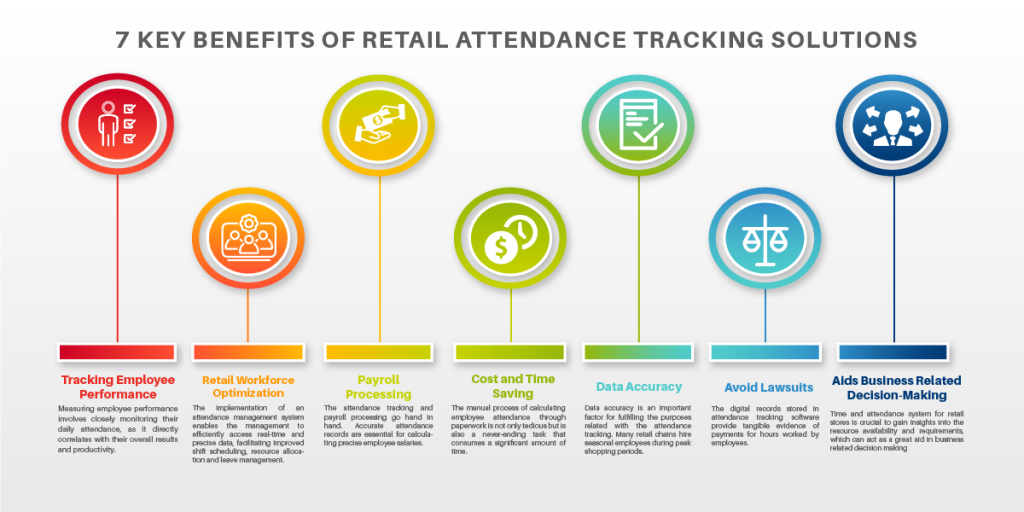 7 Key Benefits Of Retail Attendance Tracking Solutions:

1. Tracking Employee Performance

Measuring employee performance involves closely monitoring their daily attendance, as it directly correlates with their overall results and productivity. In retail, businesses depend a lot of timely interactions with the customer to help them get what they are looking for and guide them to avail other promotional and new items. If you notice a decline in the regular sales at your retail store, you can attribute it to the employee's absence in the workplace during customer's visits. By capturing and maintaining the accurate attendance records, you can hold your workforce accountable for their performance. By using a realtime attendance software, you can effortlessly document employee's clock-in and clock-out times, as well as their overall presence at work. This eliminates the need of having a register or excel sheets to capture attendance records.
2. Retail Workforce Optimization

The implementation of an attendance management system enables the management to efficiently access real-time and precise data, facilitating improved shift scheduling, resource allocation and leave management. KYTE provides an easy to use leave management module allowing employees to apply leaves with ease, and makes the leave approval and rejection process smooth for both the employee and management. The employees can also use the app to track their own attendance and gain visibility into number of leaves they have left available, allowing them to plan accordingly and make informed decisions.
The retail staff scheduling solution provided by KYTE allows the managers to view and create the shifts easily and plan as well as allocate the resources to get the maximum business output.
3. Payroll Processing


The attendance tracking and payroll processing go hand in hand. Accurate attendance records are essential for calculating precise employee salaries. A real-time attendance software can seamlessly manage all the attendance information including clock-in, clock-out time, work hours, overtime hours, leaves, paid time-offs, half days, late checkins, early clock outs and more. With this system in place, employees have no grounds to dispute any miscalculations or errors in their final salaries. Therefore, it also helps in creating a healthy work environment. Modern day attendance softwares like KYTE, provide third party APIs to integrate the solution with your existing payroll process management software easily, making your task easy.
4. Cost and Time Saving

The manual process of calculating employee attendance through paperwork is not only tedious but is also a never-ending task that consumes a significant amount of time. In case of large size retail stores or multiple retail chains, this manual work necessitates the hiring of additional Human Resource Managers to cope with the workload. However, implementing an online attendance software alleviates these challenges by automated all attendance related tasks, regardless of your store's size and complexity of staff hierarchy. The automated attendance tracking streamlines the entire process, saving time and resources, and thus the cost for the retail store owners.
5. Data Accuracy

Data accuracy is an important factor for fulfilling the purposes related with the attendance tracking. Many retail chains hire seasonal employees during peak shopping periods. Managing attendance, scheduling, and tracking hours for a large influx of temporary staff can be time-consuming and prone to errors. By using an online attendance software, you can easily onboard the new staff, categorise them as temporary or permanent staff, add allocated shifts and track their attendance easily. With online attendance tracking in place, the chances of buddy punching and proxies are completely eliminated.
Additionally, KYTE provides the feature of geo-location tagging with check-ins and check-outs, and the geo-fence feature to ensure employee's presence in store during the work hours. This helps you in dealing with the time-theft on employee's behalf and can help in creating a disciplined environment in your retail store.
6. Avoid Lawsuits

The digital records stored in attendance tracking software provide tangible evidence of payments for hours worked by employees. Additionally, these records can serve as crucial documentation during safety audits, enabling you to demonstrate that you had the correct number and combination of employees present at the required times. This aspect holds particularly significance when you own large retail stores or multiple chains of your retail stores.
7. Aids Business Related Decision-Making

Time and attendance system for retail stores is crucial to gain insights into the resource availability and requirements, which can act as a great aid in business related decision making like: required increase of employees during peak hours, shuffling employees during different shifts based on their attendance / absenteeism patterns, hiring or replacement of existing employees based on their punctuality and sincerity towards the work, requirement of new employee shifts or resources for better client satisfaction, calculating the number of employees required for expanding business or opening new chains and much more.
The reports and analytics module provide by KYTE is detailed and provides easy to understand visuals to make your decision making easy.
If you are a retail store owner or looking to start a retail business, KYTE can be your dependable business intelligence tool. To know more, feel free to reach us at 8003620388