A huge challenge faced by the security agencies is in tracking the attendance of their employees including the security guards, supervisors and other field workers. The security team reaching the respective location of job allocation in time is crucial in providing effective security services. Therefore, effective attendance tracking is crucial. KYTE is the perfect solution for tracking the online attendance of the security guards as it comes with the geo-attendance feature and keeps record of the guard's location during their work hours.
What does KYTE offer?

1. Complete platform for time tracking & security guards management
2. Location based attendance and history trail data
3. Improved planning and monitoring of the security guard operations
4. Paperless environment with digitisation and automation
5. Save time and achieve more with less effort
6. Detailed reports and analytics leading to effective business decisions
Why is Online Attendance System so important for Security Guards?

Ensuring proper supervision for your guards through effective systems is crucial in maintaining quality service. Inadequate supervision can lead to poorly trained and demotivated guards. The lack of supervision can cause the guards to feel undervalued, resulting in unprofessional behavior such as chronic lateness or even theft. The key aspect of supervision is tracking the exact clock-in and clock-out time of the guards.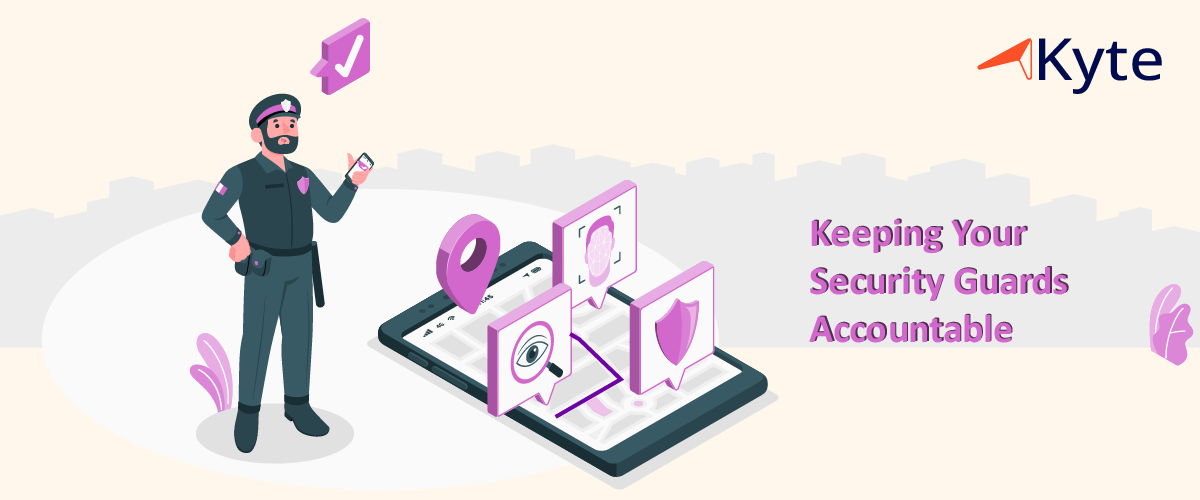 The traditional methods include manual check-ins and check-outs on paper registers, supervisors collecting the registers for information tracking and the supervisors conducting random spot checks to confirm the guard's location. This method has a lot of loopholes including proxy and a lot of hassle on supervisor's part.
This whole process can be streamlined and in fact improved with the help of online attendance app. KYTE: being an online attendance app with geo-attendance and live location features is the perfect solution for security agencies.
What KYTE offers for Security Agencies?
Provide smart ways to track employee attendance

KYTE allows the security guards to check-in and check-out directly from their phone along with their location being shared. No need to stand by a fixed attendance portal is required thus, saving a lot of time. The supervisors can view the guard's location at any instant right from the app and don't need to perform manual checks. KYTE is the best attendance app for employees as it also provides the feature to set a geo-fencing so that anytime the employee exits / enters the geo-fence during work hours, supervisors are notified of the same, providing real-time location data.
Online Attendance Records help in forecasting time and attendance

The online attendance records captured from the daily attendance app can help with various insights. Creating the optimised guard schedules requires effective forecasting to determine the appropriate number of guards needed per shift, which can ultimately help reduce unnecessary labor costs. Beyond cost savings, accurate forecasting of time and attendance can lead to several benefits, including improved service to clients by ensuring that there are enough guards available for each shift. For instance, forecasting can identify the busiest periods that require more skilled guards.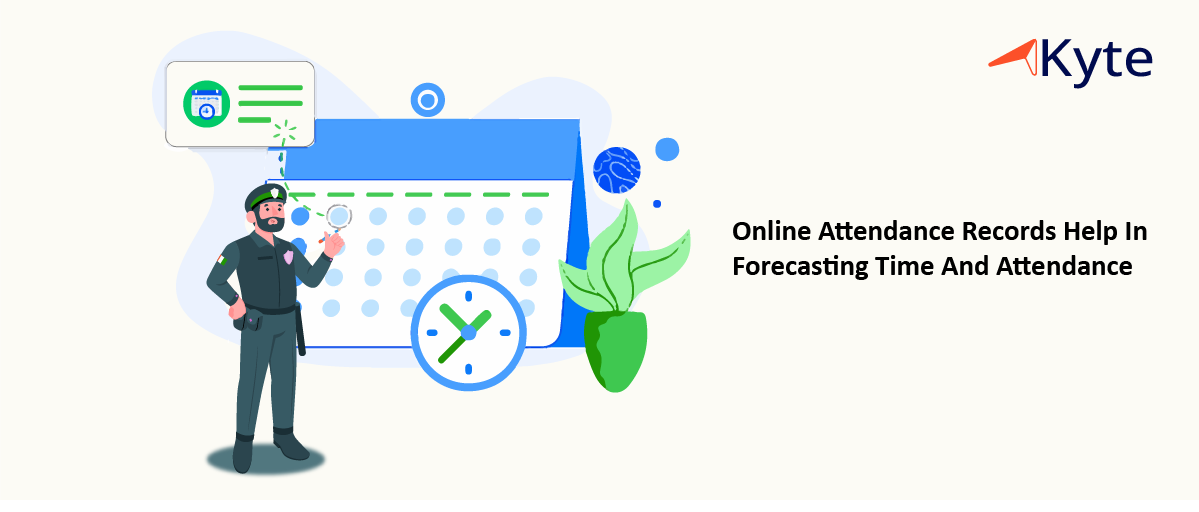 Reliable forecasting and effective shift scheduling enhances the customer satisfaction, reduces turnover and boosts employee engagement, ultimately leading to lower costs and better outcomes.
KYTE provides the in-app scheduling module which further simplifies the scheduling process.
Continual Improvements with e-attendance reports

To gain insights into guard's performance regarding their work timings and attendance, as well as effectiveness of workflows and processes, reporting is crucial. Reports provide valuable information on trends, which is crucial for accurate forecasting. In addition, reporting enables the identification and understanding of potential risks and opportunities for improvement. With the location data tracking feature, KYTE provides various reports beneficial for your business and allows you to create custom reports as per the requirement.
Effective Employee Engagement

While the security industry is often associated with the high turnover rates, this trend can be reversed with the help of an effective attendance management system. By fostering a sense of connection and community among guards, even those working remotely, you can improve their engagement and reduce labor costs associated with absenteeism and scheduling conflicts. Building genuine and open relationships with your guards can result in a more collaborative work environment and fewer instances of no-shows, making it easier to manage scheduling and attendance effectively.
KYTE also provides the in-app leave management module allowing the guards to apply leaves and view the approval status directly from the app. This allows easy communication with their supervisors and saves time and efforts of whole team.
If you are a security agency looking for a smart attendance app to improve your business process, KYTE is definitely the answer for you. Book a free demo today. Click here