Field employee tracking is the process that allows the organisations to monitor the movements, activities and performance of their field employees. The field employees typically perform tasks, and job services at various remote sites, client premises and in the field. They have distinct job roles and responsibilities that invite client interactions, managing on-site repairs or installations, surveying, and engaging in other activities requiring their physical presence away from the main office.
The field employee tracking is beneficial for companies seeking to oversee their employee's travel and other related expenditures. Field employee tracking is usually done through their live location tracking. The information gathered through the location tracking of the field employees is useful in pinpointing areas that require improvements and guarantees optimal employee efficiency. Therefore, effective field employee management and expense management is made easy through the use of a field employee tracking app. KYTE is a GPS based attendance system for field employees that allows the organisations to enhance operational efficiency and safety while achieving long-term time and cost savings. Before discussing KYTE let's briefly view the different methods of field employee tracking available in the market.
Different Methods To Track Field Employees
Tracking the field employees is important for efficient workforce management. With advancements in technology, various methods are available to track the field employees. They are:
1. Mobile Apps: Field employee tracking apps are popular methods for employee tracking. The apps allow the field employees to log their activities, report their location and update their job status. The data can be centrally managed and accessed in real-time with the cloud services.
2. GPS Tracking: Real-time tracking of the field employees is possible through their GPS tracking. The GPS can be installed on their vehicle or with the help of smartphone apps.
3. RFID tags: RFID tags are other popular way for tracking field employees. The employees can scan their RFID tags at different work locations and the data can be centrally stored. This is especially useful when the construction workers have to work on different sites.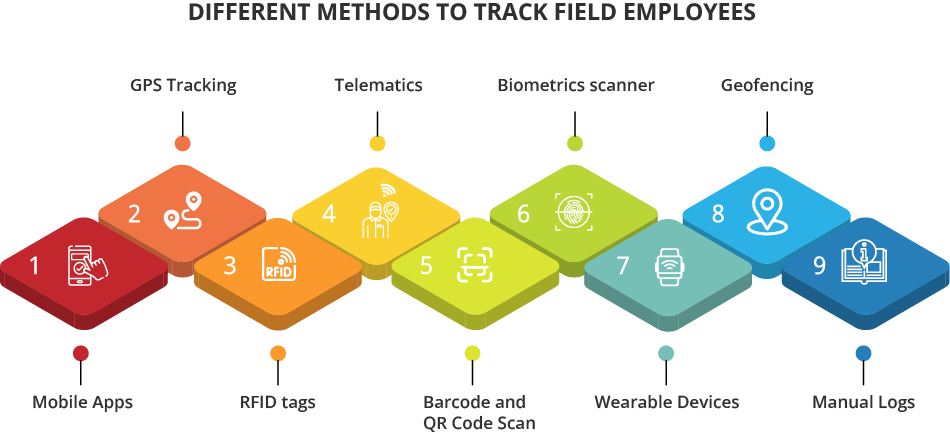 4. Telematics: Telematics involves the usage of the GPS technology along with the vehicle sensors to get detailed information on vehicle location, speed, fuel consumption, sudden accelerations or breaks. This is usually beneficial in the logistics industry.
5. Barcode and QR Code Scan: The on-site barcode or QR code scan can be used to mark attendance. It is useful for tracking staff on different retails stores, warehouses and remote offices.
6. Biometrics scanner: Installing biometric scanners at different sites or checkpoints can also be a method for tracking the field employees. Time stamps are stored with each scan for effective employee tracking.
7. Wearable Devices: Smartwatches and other wearable custom devices can be used to track the location of the field employees.
8. Geofencing: Virtual perimeters can be set around the work area to track when the employee enters or exit the work site. This is beneficial method when site visits or deliveries are involved.
9. Manual Logs: Logging information sent over text or email can be other method to track the field employees.
Different methods can be used as per different business requirements. But each method has its own shortcomings. This is where the need of a versatile and innovation field employee tracking app arises. The expert team at KYTE has studied all available modes of field employee tracking and created the algorithm to effectively monitor the field employees. The data security and accuracy had been the key motivation before creating KYTE.
KyteHR is a smart staff attendance app that allows the field employees to log in and log out directly from their phones. The live GPS tracking, history trail and geo-fencing features are being provided to ensure data accuracy and no time theft on the employee's behalf. The provision of posting a real-time selfie with attendance logs and RFID tag reading functionality is also provided. The app also has in-app leave management module for ease of employees. The shift scheduling and task allocation features are also provided for effective team coordination. All data is fetched in real-time and can be stored for desired durations using the cloud services. Further, keeping the performance evaluation and business decisions in mind, we have provided comprehensive reporting module. The reports can be customised as per business needs and are easy to understand with a visual dashboard provided in-app.
If you are actively looking for a field employee tracking app for your business, your search should end with KYTE. We encourage you take a demo. The app is easy to use and can also be customized as per your business needs. Book a free demo. TODAY!