Have you ever found yourself in a tricky situation where you urgently need to calculate your leave, approve expenses, and process payroll within the next 48 hours, but your HRMS system refuses to cooperate? This frustrating predicament can arise from technical glitches, overly complicated processes for simple tasks, and the absence of last-minute customer support. In such moments, it's essential to take a decisive step in the right direction and seek out the finest HRMS software in India.
Whether your organization is a budding startup or a well-established entity with multiple branches and locations, HR software proves invaluable for automating daily operations and managing monthly payroll tasks. Given the multitude of options available in the current market, selecting the ideal solution for your organization can be quite a daunting challenge.
But fret not! We've taken the time to research and compile a comprehensive list of the top HR software options in India. So let us discuss about top 10 leading HR software options in the market.
The Advantages of HRMS Software
In line with the evolution of HR departments, the advantages offered by human resources software are evolving as well. Basic administrative tools that streamline data collection and empower employees to access self-service features have become essential, and forward-thinking organizations are utilizing HR software to enhance workforce engagement and optimization.
These benefits include:
Enhanced Efficiency and Productivity: Nearly 80% of organizations are employing HR software to simplify data gathering and enhance process efficiency. It's undeniable that companies equipped with advanced HRMS software in India experience significant improvements in talent retention.
Cost-Efficiency: Controlling payroll and benefits expenses is a top priority for every organization. Salaries, payroll taxes, and benefits typically represent some of the largest budgetary items. HR management systems offer human resources teams various avenues to achieve cost savings without compromising the employee experience.
Error Reduction: Automating payroll is particularly valuable for small businesses as manual data entry is prone to payroll errors. Rectifying these mistakes not only consumes valuable time but also leaves the company vulnerable to government penalties resulting from inaccuracies in tax withholding.
Attendance Oversight: Timecard fraud is a real concern that can drain an organization's time and resources. Fraudulent activities can range from extended lunch breaks to "buddy punching," where one employee clocks in for another who is running late, or even billing for hours not actually worked. Time clock systems require employees to swipe their unique employee IDs when punching in, which helps eliminate some of these issues. They enhance security by necessitating manager approval and can be configured to send alerts to managers if time records don't align correctly.
Top 10 HRMS Software You Should Consider in 2023
Apart from the benefits stated above, HRMS software in the market todays give you multitude of features and insight that can change the way your organization works. So, without wasting any more of your time, here are the best HRMS software in India right now:
1. KyteHR
KyteHR is a game-changing and the best HRMS software in India that empowers businesses to efficiently manage their on-field workforce with a user-friendly mobile app. Designed for companies with on-field employees and multiple office locations, KyteHR offers an array of advanced features to enhance workforce productivity and streamline operations.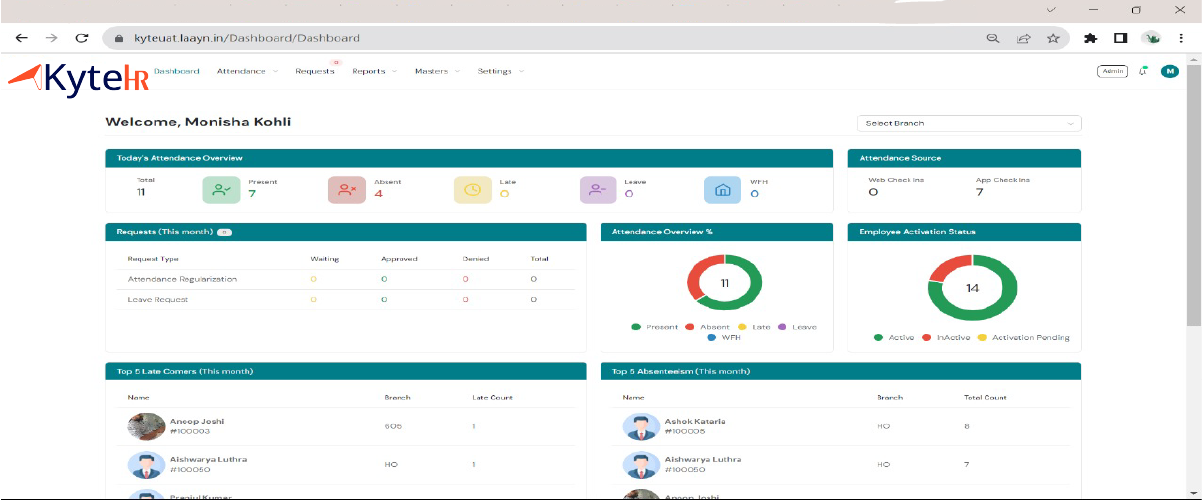 With features like GPS tracking, leave management, shift planning, employee communication, timesheet and payroll management, and a dedicated kiosk app, KyteHR revolutionizes attendance tracking and employee management. You know they are trusted as over 75,000 employees are currently handled by their system.
Key Features:
Keep Tabs on Your Mobile Workforce's Locations With Real-time GPS Tracking.
Effortlessly Handle Employee Leave Requests and Approvals.
Streamline Scheduling and Optimize Workforce Allocation.
Facilitate Seamless Communication Between Your Team Members.
Simplify Timesheet Management and Payroll Processing.
A User-friendly, Kiosk App for On-site Attendance Management.
2.   greytHR Software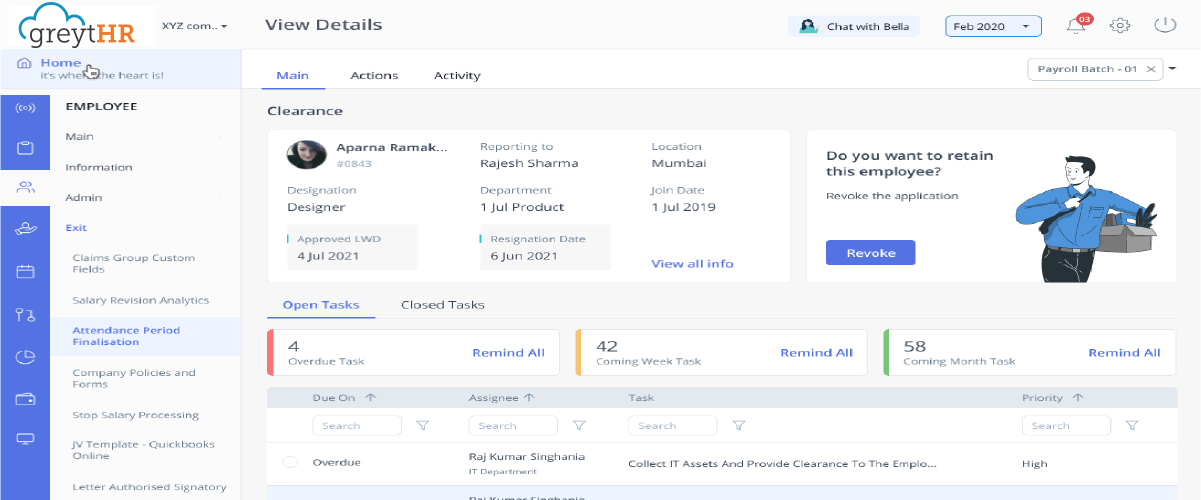 greytHR stands as an all-encompassing, cloud-based automation solution tailored for payroll, HR, and compliance procedures, specifically designed for businesses throughout India. greytHR introduces a blend of reliability, swiftness, and cost-effectiveness to your entire HR process. This covers everything from the initial onboarding to employee departures, and payroll operations to engagement initiatives.
Key Features:

Availability of Core HR Functions.
Seamless Payroll Management.
Easy Exit management and Onboarding.
Attendance and Leave Management.
3.   KEKA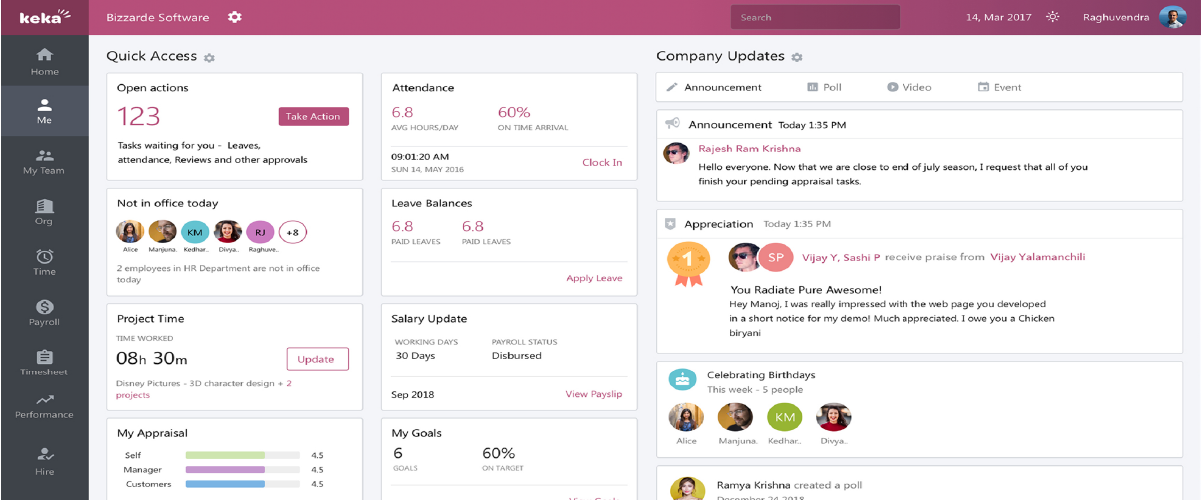 Keka is renowned for its employee-friendly interface and robust user experience, offering an integrated and streamlined workflow that ensures a hassle-free payroll processing journey. Keka HR is one of the best top 10 HRMS software in India, as an all-in-one HR software solution catering to the full spectrum of HR requirements for small and medium-sized businesses.
Key Features:
Seamless Calculation of Processes and Payroll.
Easy Monitoring of Employee Attendance.
Efficient Management of Time-off Requests.
Smooth onboarding and offboarding processes for employees
4.   Zing HR
Zing HR stands out as a cloud-based platform that offers comprehensive HR solutions designed for companies of all range. With its unique set of features, it serves to streamline HR operations and enhance overall productivity.
Key Features:

Fully Automated Processing for Payments.
Simplified Tracking of Attendance and Time.
Detailed Reports and Analytics to Facilitate Informed, Data-driven Decision-making.
5.   ZOHO Payroll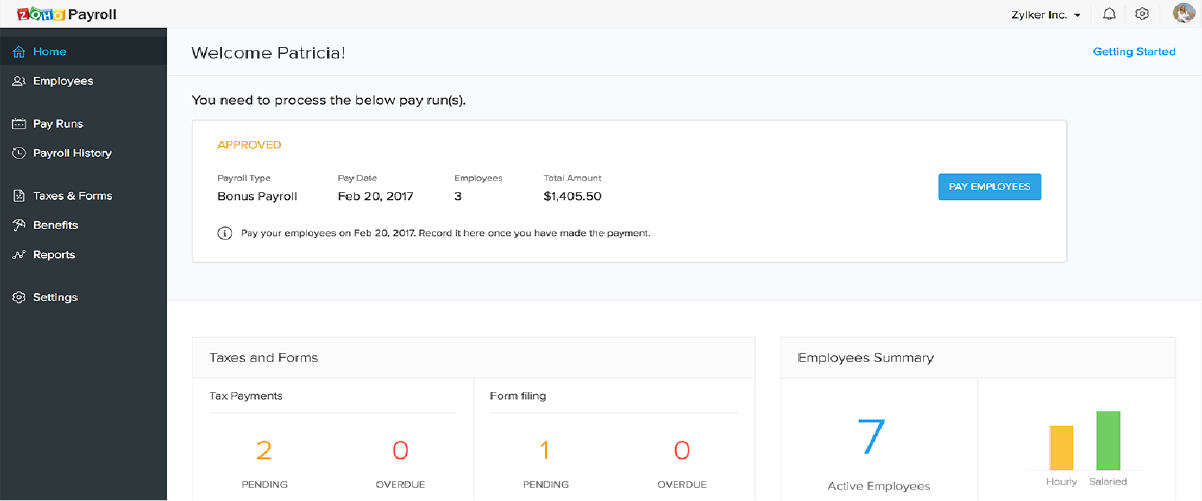 Zoho Payroll is a cloud-based HRMS platform that offers robust solutions for human resource management. It empowers HR leaders to efficiently oversee their workforce, maintain employee databases, and administer benefits programs. This straightforward yet comprehensive HR software simplifies complex HR tasks, making it a hassle-free choice for HR departments.
Key Features:
One-click, Easy Payroll Calculation.
Statutory Compliance for Income EPF, Tax, PT, LWF, and ESI.
Customizable Payslips, Email Templates, and Salary Components.
Salary Revisions and Easy Handling of Loan Advances.
6.   Qandle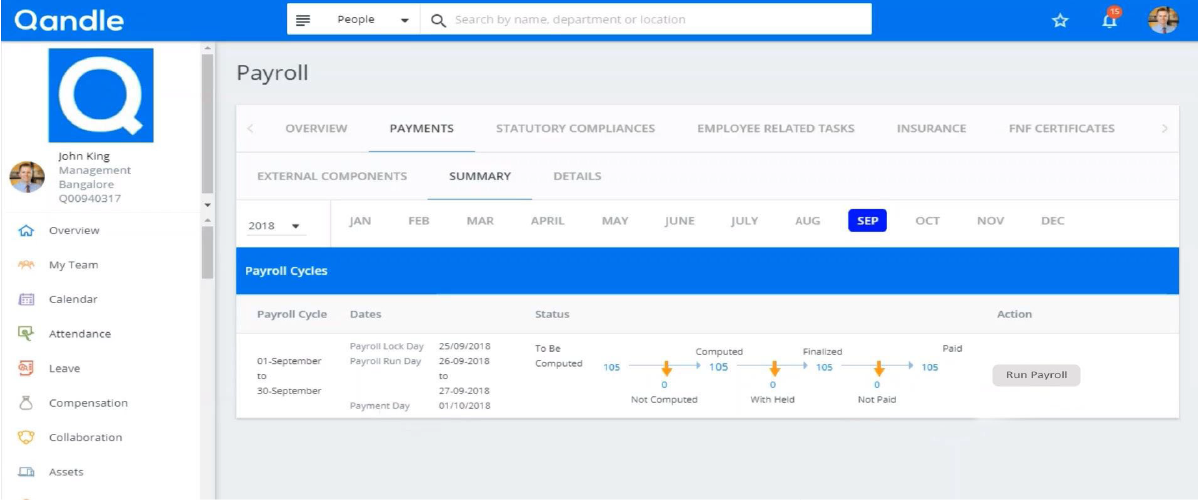 Qandle offers a comprehensive HRMS solution that caters to all your HR needs. Notably, it earned a spot among the top 50 global HR software in 2018. With a roster of 36 applications, Qandle covers a wide spectrum, from HR and talent management to payroll and business expense management.
Key Features:
Easy and Ready to Use.
Comprehensive Expense Reports and Analytics for Easy Management.
Bank-Grade Security.
7.   sumHR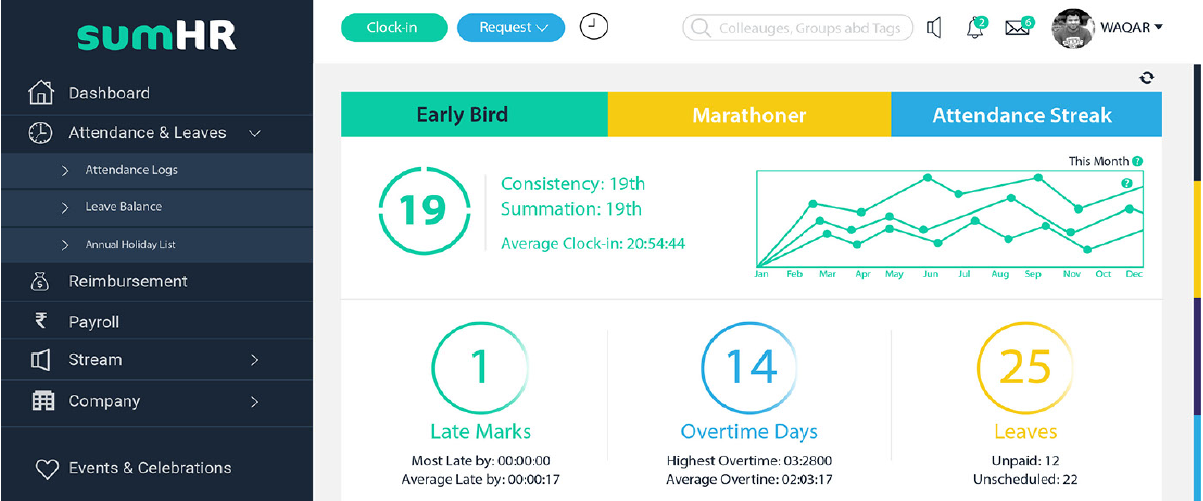 sumHR is a comprehensive HR software designed for the Indian market, aimed at assisting startups and SMEs in automating their core HR and payroll operations. Beyond HR and payroll management, this system facilitates talent management, tracks attendance through biometric and GPS solutions, sets employee productivity OKRs, and much more.
Key Features:

Employee Directory, Organizational Chart, and Company Calendar.
Streamlined Payroll Automation.
Efficient Reimbursements Management.
Performance Reviews, Competency Maps, Goal Tracking, and OKRs, 360° Feedback.
8.   FactoHR
FactoHR stands as a versatile HR solution that offers a comprehensive solution for automating HR processes. The seamless integration and smooth UI/UX of this software proves invaluable for SME organizations, simplifying and streamlining their daily workflow.
Key Features:

A Unified Platform for Accessing and Managing all the Data.
Easy Processing of the Salaries of the Employees for enhanced efficiency.
Effective Attendance and Time Management.
9. KREDILY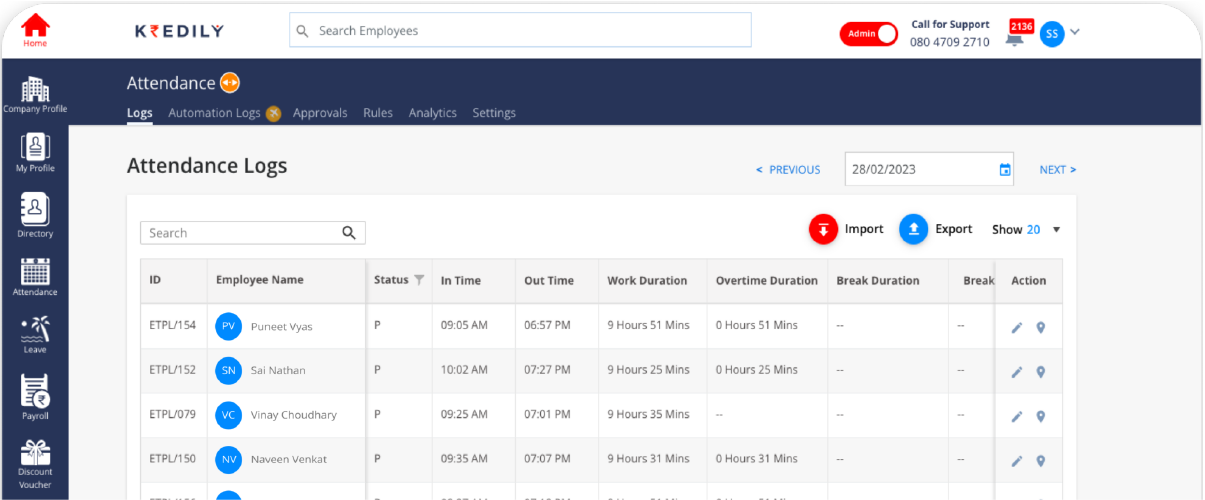 KREDILY serves as an HR Digital Workplace tailored for small to medium-sized businesses in India. It boasts features like 'greet' and 'reach,' which can replace various communication tools and teams, making it a convenient choice for HR-related tasks.
Key Features:
Payroll management
Leave and Attendance tracking
Employee management
Greet – Video conferencing for seamless communication.
10. Zimyo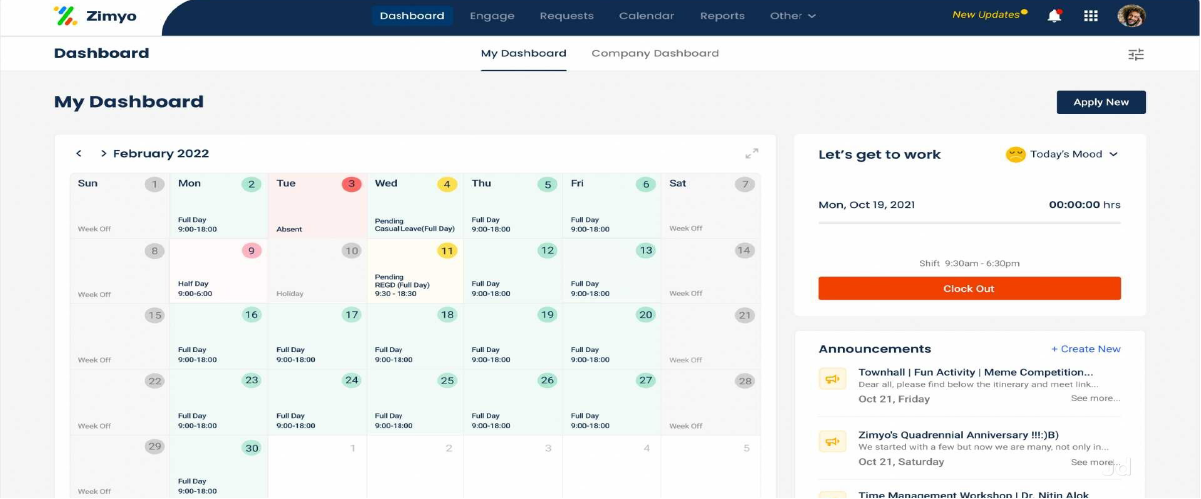 Zimyo is a great HRMS software designed to efficiently streamline HR workflow for businesses of all sizes, including SMEs and big enterprises. Its user-friendly interface not only simplifies HR processes but also promotes smooth collaboration among all the members of the team.
Key Features:

Streamlined Operations, Covering Onboarding to Exiting.
Simplified Processing of Payroll for Enhanced Efficiency.
Efficient Performance Tools for Seamless Management.
Frequently Asked Questions
Q: What is HRMS software?
HRMS Software, short for human resource management software, is an application designed to assist companies in managing their HR processes. HR Software offers various features for handling employee attendance, payroll, leave management, and also provides employee self-service portals.
Q: What is the pricing of HRMS in India?
The most affordable options from this list of HRMS software in India starts at just 10 rupees per user per month. But you should keep in mind that you should not compromise with quality and choose the best with most advanced features.
Q: Which HR software is recommended for small businesses in India?
Kyte HR stands out as the top choice for Top HRMS software in India. It offers a comprehensive HR management solution, including attendance tracking and live GPS tracking for field employees. With its user-friendly interface and secure platform, Kyte HR has gained popularity as one of the most preferred options.