At Kyte, we are always researching the market and analysing our client needs in order to bring the best attendance software services to our clients. So, here we have tried to our honest review and insights on the top 5 Attendance Tracking App for Construction Workers in 2023.
Challenges Related To Attendance Tracking In Construction Industry
The construction industry has its unique challenges when it comes to attendance tracking. These are mainly due to the dispersed workforce, compliance and regulation needs, and varying work sites. The construction projects involve large number of people working in different locations. The workforce has a hierarchy of people including subcontractors, wage based temporary employees, employees from different trades. Therefore, the attendance system in construction industry has to be systematic. As per our study of challenges faced by construction related business manager are: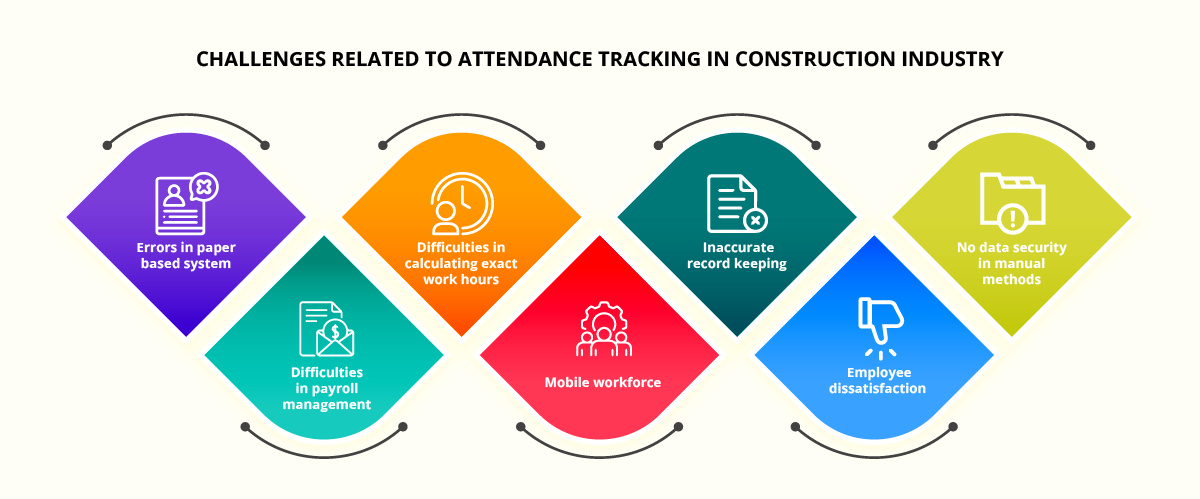 1. Errors in paper based system
2. Difficulties in calculating exact work hours
3. Inaccurate record keeping
4. No data security in manual methods
5. Difficulties in payroll management
6. Mobile workforce
7. Employee dissatisfaction
Keeping all these challenges in mind, Kyte has designed KYTEHR to be the most versatile attendance tracking app for construction sites.
Here Are Top 5 Attendance Tracking Apps In Construction Industry In 2023:
1. KYTEHR
As discussed, KYTE for construction industry is designed to fulfil all the needs related to the construction industry. It is easy to use and can easily track the diverse workforce. The app is most suitable for the construction industry due to its live location tracking feature. It can be easily installed on the employee's phone, iOS as well as Android. The employee can mark their login and logout with a single click. The location and time-stamp is automatically tagged for data accuracy. It also allows the employees to post a selfie along with attendance, leaving no chance of proxies.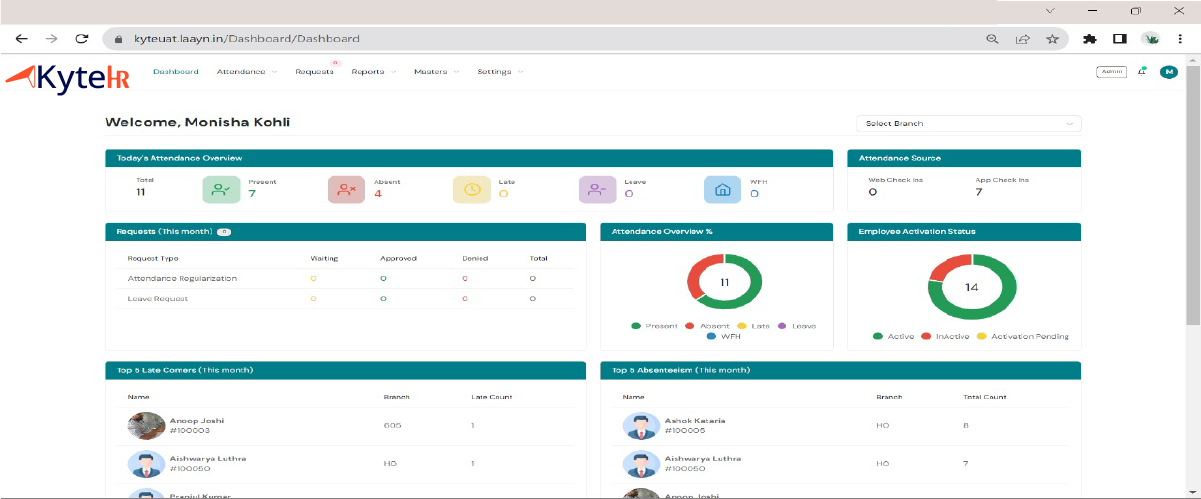 The reports and analytic features of KYTE enhances decision-making, allowing manager to have better shift scheduling and optimize the tasks in real-time. This improves the efficiency and over the time leads to great profits. KYTE offers geofencing to ensure the employees are on site during the work hours. The in-app leave management is intended to make team interactions smooth. KYTE also offers easy to integrate APIs which makes data transition to other business software easy.
KEY FEATURES:
– Easy attendance methods
– Real-time location tracking
– Effective tracking with geo-fencing
– Mobile apps for ease of use
– Real-time data analytics
– Leave management
– Shift scheduling
– Integration with payroll software
– Integration with project management software
– Post a selfie with attendance
– Automated data collection
– Cloud storage
– Offline time tracking
– Custom budget friendly solution
– Real-time field insights
– In-app notifications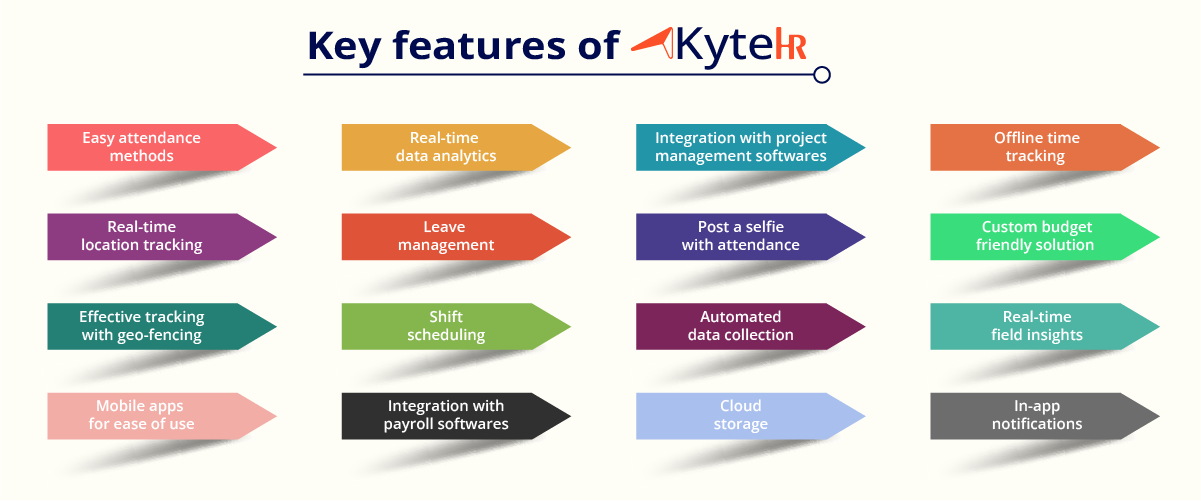 What Users Like The Most About It?
KYTE is liked by the users for its usability and intuitive UI. It is easy to use and quick to understand compared to other attendance tracking apps in the market. Geo-fencing functionalities provide accurate insights and each module functions smooth. Reports and analytics provided by KYTE have proved to be supportive in business related decision making.
What Users Don't Like About It?
Continuously surveying our client's experiences to figure out what can be improved. No complaints yet, but our research and development (R&D) team is dedicated to leave no stone unturned to find and implement any scope of improvement.
2. ClockShark
Clock Shark suits the needs of construction sites with easy to switch job codes. It has features supporting effective tracking of each worker's job roles. The real-time accountability is helpful in ensuring trust. It allows healthy relationship with the employees. Defining the roles and responsibilities is easy with ClockShark. It makes it a good competitor of KYTE.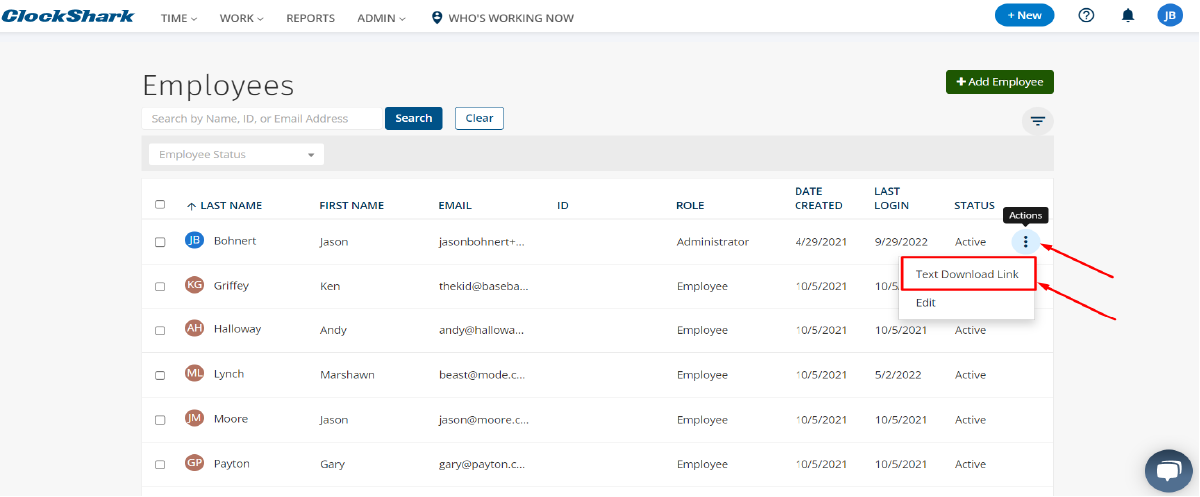 Another great feature provided by ClockShark which we really like is GPS tracking. Much like KYTE, they also offer location tracing. This bridges the gap between the online records and real-time movement of the workforce.
Key Features:
– Mobile app
– Job Codes Allocation
– GPS tracking
– Track the project tasks easily
– Real-time data and analytics

What Users Like The Most About It?
GPS tracking is one beneficial feature for the construction industry. Users seem to like the GPS tracking ability offered by ClockShark.
What Users Don't Like About It?
– Complex integrations
– Limited options for reports customisation
– Slightly costly compared to other apps in the market
3. Hubstaff
Hubstaff is populat for providing effective time tracking features like automated payments and reporting. It allows you to monitor hours while also providing real-time data, GPS location tracking, invoice management, payroll management all in one app. It also provides offline time tracking ability. In case the workforce loses connection on site, the hours are still tracked.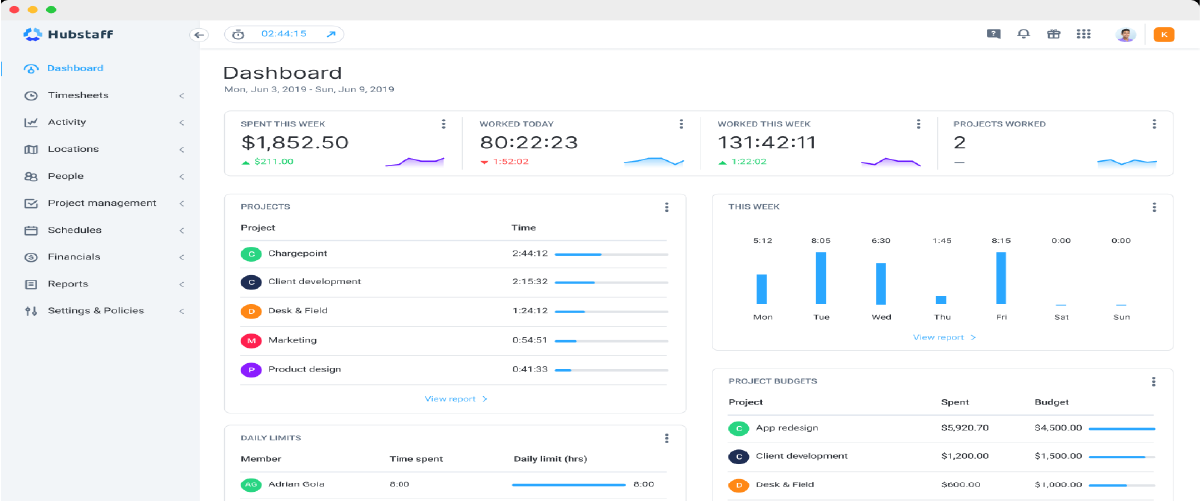 The app is best for overall project management as it also provides screen captures for tracking tasks on devices. This makes the Hubstaff best tool for tracking in-office staff.
Key Features:
– Comprehensive Reports
– Digital timesheets
– Expense Management
– Mobile App
– Offline Functionality
– Geographic boundary enforcement

What Users Like The Most About It?
The offline time tracking capability and geofence features are liked by the users. Expense tracking is made easy by features provided by Hubstaff
What Users Don't Like About It?
– Complex UI
– Bugs while generating long reports
– Little too complex for tracking on-site staff
4. Timeero
Timeero is also made with on-site employees in mind. It supports mobility and can track location. It allows users to login and log out from any location and also tracks current location at any instant much like KYTE does. The location tracking feature enhances the accountability of the employee. Similar to KYTE, Timeero also provides the geo-fence feature. This allows the managers to create virtual boundaries allowing better monitoring.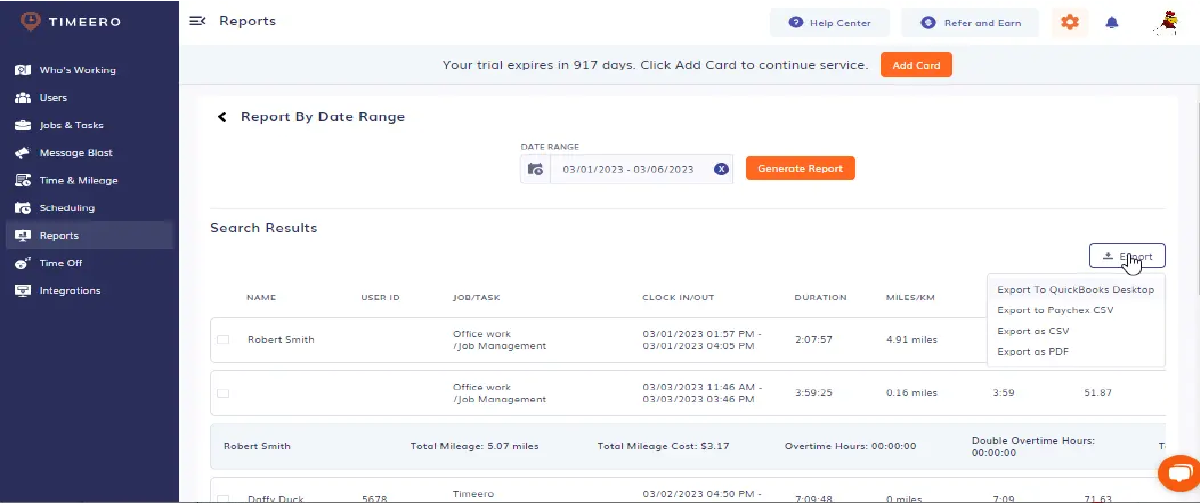 The detailed timesheet management is also a great tool for assisting project management.
Key Features:
– Mobile app
– Location tracking
– Timesheet management
– Geo-fence
– Reports and analytics
– In-app notifications
– Integrations with payroll software
What Users Like The Most About It?
Much like KYTE, Timeero also offers automated location tracking with attendance records. It supports multiple locations and is ideal for the employees on the move.
What Users Don't Like About It?
– Less compatible with Android devices
– Inability to set up time reminders
5. Rhumbix
Rhumbix is known for its powerful analytics features. The insights offered by Rhumbix empowers construction managers in their decision making. Rhumbix provides comprehensive view of attendance patterns, productivity trends and task scheduling. These analytics act as a catalyst for efficiency and bring improved outcomes.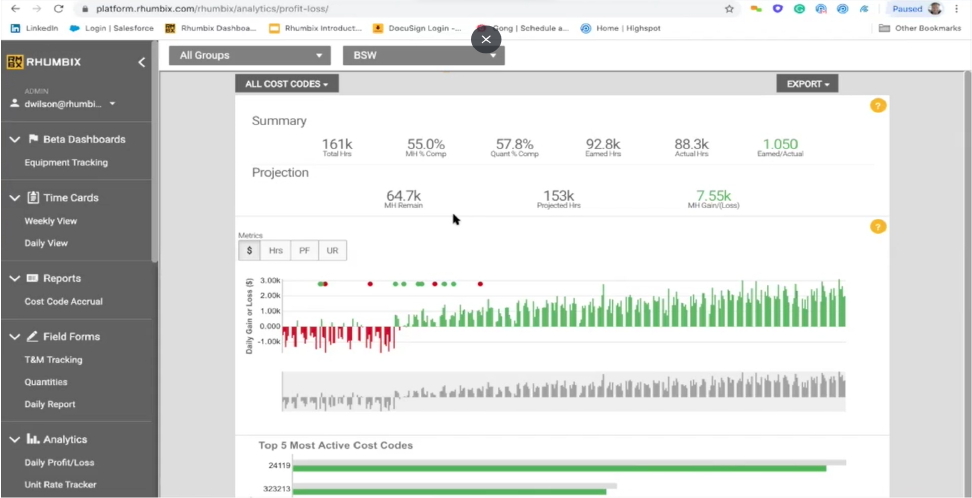 Real-time data and analytics as integral part of attendance tracking in construction industry can be a big usability feature. It enhances the project visibility, productivity and supports decision-making. We have also compared many features with KYTE's to make KYTE's analytics most effective.
Key Features:
– Mobile app
– Task-based time tracking
– Automated data collection
– Integration with payroll software
– Real-time data and analytics
– Performance metrics
– Field insights
– Customisable reports

What Users Like The Most About It?
Much like KYTE, Rhumbix also offers real-time insights. The insights have proved to be effective in supporting key business decisions.
What Users Don't Like About It?
– Difficulties in task code allocation
– Lack of an export to PDF features
– Shows slight lag in loading data
Conclusion:
We have shared our market research in comparison format to effectively explain the trending and most usable features of attendance tracking apps in construction industry. In short, the GPS tracking, mobile login and real-time insights are crucial features to have for effective outcomes.
If you are from the construction industry looking for an effective workforce tracking software, KYTEHR is the answer for you. For more detailed information, reach us out with your business needs at: 8003620388