There are plenty of factors hospitality businesses consider for increasing their revenue and viability including the aesthetics, uniqueness and marketing. But while focusing on the external factors they often miss the internal ones. Neglecting to implement an effective employee time tracking system can result in significant losses due to "time theft" and outdated manual methods.
By switching to an automated attendance system that utilises the latest online attendance methods, hotel and restaurant businesses can track employee time accurately, leading to a more efficient, productive and satisfied workplace. KYTE comes with online attendance through simple clicks on phone app, resulting in significant time savings and reduced stress during payroll processing.
For the effective authentication of the online attendance records, KYTE provides the features to capture the live location of the employee while they check-in and check-out and tracks their location during the work hours. Respecting the employee's privacy, the location tracking stops as soon as they check out. With the geo-attendance feature, there is no chance of proxies happening and it leads to a better work environment by creating a sense of trust between the employees and management. Further, KYTE provides the feature to allow employees to upload a selfie while marking attendance and the management can create a digital geo-fence to track when the employees were in the workplace and when not.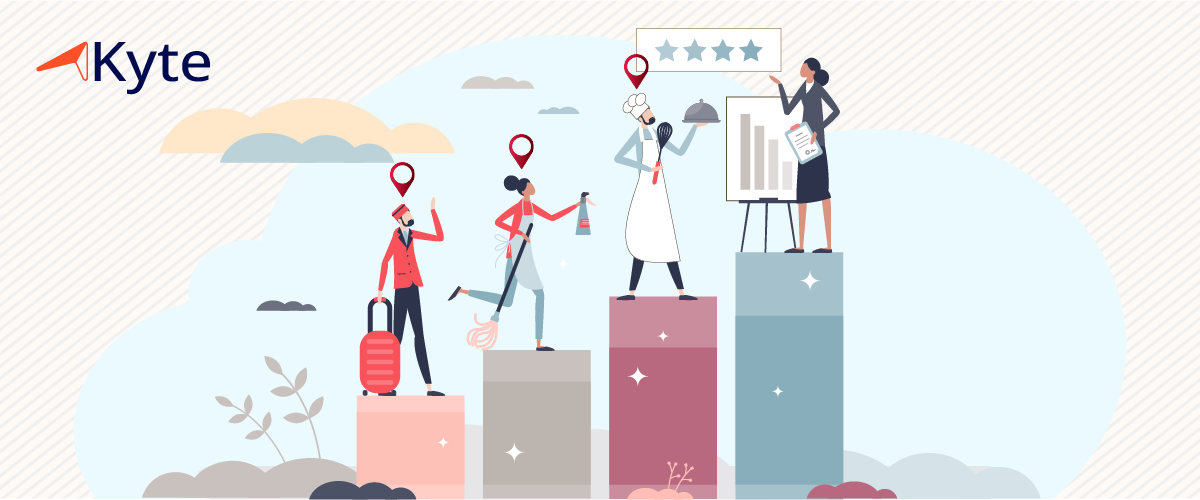 10 Benefits Hospitality Businesses Can Get From Online Attendance Tracking:

1. Eliminate the human error

Automated tracking of the employee attendance and work hours can provide numerous benefits including preventing human error in manual bookkeeping. Even with the use of spreadsheets or other computational devices, typing mistakes can happen and the computer's operating system or hardware issues can lead to data loss. Additionally, relying on human memory recall to track work hours, breaks, lunches and overtime can lead to inaccuracies.
With the geo-attendance feature of KYTE and cloud-storage of the records, it is one-shot solution to all these issues.
2. Prevent time thefts

Time theft can refer to a range of activities such as clocking in for a fellow colleague who is running late, also referred to as buddy punching or proxies, taking longer breaks than permitted. With the staff missing out, hotel or restaurants can't provide the customer experience they are meant to provide, in order to thrive. Regardless of, it is intentional or not, time theft can significant financial consequences, making it crucial for management to prevent it. Time theft can be effectively eliminated with the help of smart attendance system.
Apart from basic functionalities of e-attendance, KYTE also allows you to implement a digital geo-fence in order to have better tracking of when your employees enter or leave your work premises.
3. Effective Leave Management

A common concern for the HR staff is to determine which employee has how many paid leaves left or taken. Discrepancies in this information can interrupt the workflow and productivity. However, with the use of real time attendance software, the employees can access their records at any time, preventing such issues. KYTE provides the in-app leave management module, allowing the employees to apply leaves and track the approval status right from the app. This saves a lot of time spent in discussions over leave approval.
4. Go paperless to save time & money

The act of sorting, organising and processing paperwork can be a time-consuming task. Moreover, the expenses associated with replenishing the supplies required to maintain an outdated time and attendance system, such as paper, pens, pencils, printer ink, toner etc and the physical space to manage all this stuff, can become costly over the time and may even hinder the business's ability to operate smoothly. With the attendance tracker app, you can save this cost and the efforts required in these tasks. It also eliminates the need of dedicated resource to monitor the daily attendance activities.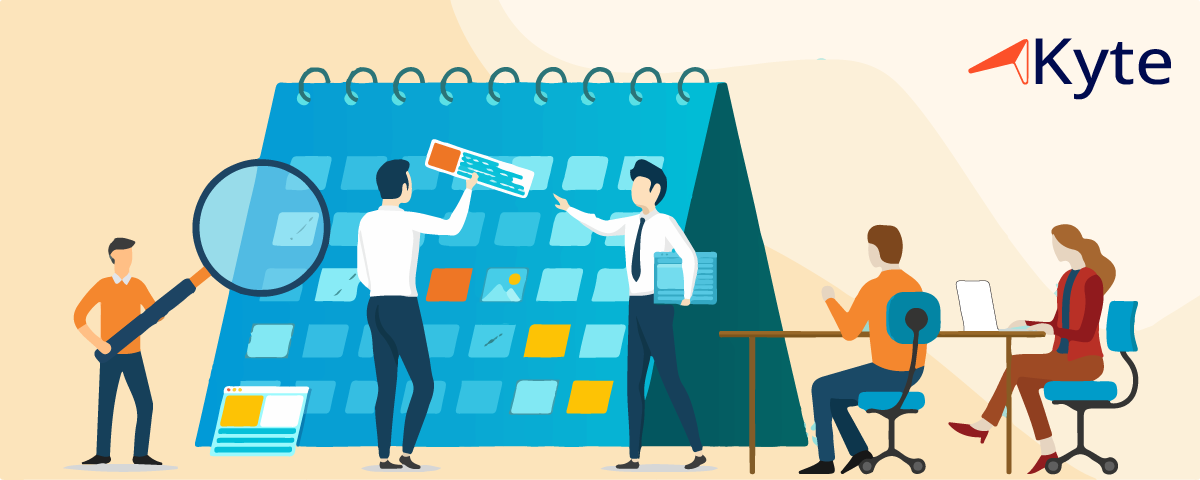 5. Long-Term Solution

While the paper-based or spreadsheets-based time and attendance tracking system may suffice for your small business at present, it may not be suitable as your hotel or restaurant business grows, and you hire more employees especially delivery partners to track. To prepare for growth and avoid any potential issues that may arise with an outdated system, it is recommended to upgrade your timekeeping system before it becomes too late. By upgrading to a more advanced system, you can ensure that it will be able to handle the increase in data and employees.
KYTE comes with cloud support, and you don't need to worry about your attendance record keeping at all.
6. Strong Data Integrity through Data Centralisation

Using a standardised system for calculating payroll is much easier when you have multiple chain of your hotel or restaurant. KYTE provides a central database with uniform practices that can be accessed from anywhere anytime.
7. Ensure Compliance with Employment Act and Labor Laws

Keeping up with the state and federal employment act and labor laws can be challenging, especially when it comes to tracking overtime pay and maintaining accurate records. A manual time and attendance tracking system can make these tasks even more difficult, potentially putting your company at risk of future lawsuits that can result in significant financial losses. To avoid these issues and ensure compliance, accurate time tracking is essential and can be effectively achieved through the use of smart attendance app.
8. Effective Shift Scheduling

Hospitality businesses rely a lot on effective shift management, and ensuring the right number of employees are present in each shift to cater the customers effectively is very important. Attendance management apps come with the shift scheduling feature allowing the managers to allocate different resources to different shifts. Also, the employees get notified and can confirm right from the app as well, leading to smooth business processes.
The shift scheduling module of KYTE is easy to use and allows you to have an effective shift as well as resource management.
9. Motivate the employees

With easy attendance and leave management features, employees feel at ease as they are saved from a number of queries from their seniors providing mental peace to all the parties involved. Also, providing employees with the ability to access their time records at any time can enable them to evaluate their productivity during work hours. This transparency can yield valuable insights into how much time is being spent on specific projects or at particular locations, enabling employees to identify and eliminate any inefficiencies. The e-attendance records also eliminate any chance of doubts in payroll management.
10. Effective Business Decisions

Whether it's a decision to hire more staff or distribute the staff well in different shifts, so that customers are never left unattended in peak hours, employee attendance system is always useful. You can access the records anytime with a few clicks to analyse the data for effective business decisions.
KYTE provides an effective reporting module with dashboard having analytics in form of tables and graphs which makes your regular employee performance tracking easy and can be a big aid in business related decision making. KYTE also allows you to customise the reports as per your required metrics.
Therefore, if you are a hospitality business owner, now is the time to ditch the traditional methods and embrace the future by upgrading to a high-quality staff attendance app and enable your business to enjoy its benefits. To Book a free demo today, call us at 8003620388 or  Click here